Do all of our debates break one of the commandments of logic?
Commandment number six.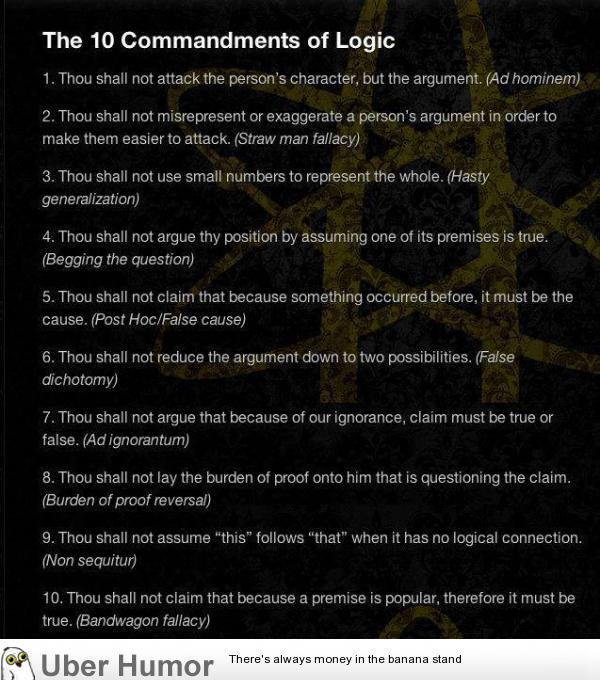 t
Hell, I am breaking number six right now!

I place intuition over logic every time. Creativity is seldom, if ever, based on logic. Entertainment is not based on logic, it is a medium of intellect and emotion. Inventiveness is spawned from totally illogical concepts and romantic visions of things never seen, tried nor even imagined before. The boredom of logic is the region where mathematicians spend their time. Throw the 'logic commandments of debate' in the bin and let every participant present their argument in their own individual manner.

Side: Wait..., what? No!!!

ghostheadX(1103)

Disputed

How are you breaking number 6? What was your starting point of possibilities and which was did you remove? Its not reducing it to two possibilities if you started with two.

It's not reducing the possibilities if the circumstances can only lead to true or false conclusions or yes and no answers.

Your debate topic doesn't break any of the laws, so the answer is no.

Side: Wait..., what? No!!!

The number one rule for CD debates is leaving the door open for an attack. Otherwise, no one comes to the party. So, for example, who would go to a debate titled: "Without Oxygen, you would die?"

You can achieve the same effect by having a typo in your debate title or by having a debate title that is not grammatically correct. People look for something to nit-pick.

Side: Wait..., what? No!!!

ghostheadX(1103)

Clarified

A yes or no question only has two answers, but there are many justifications for an answer. If it was just you click a button to vote for the side that you think is right, then it might be, but since we are given the chance to explain ourselves, then I don't think we are.

Side: Wait..., what? No!!!