Batman is a better fighter than Superman and Ironman.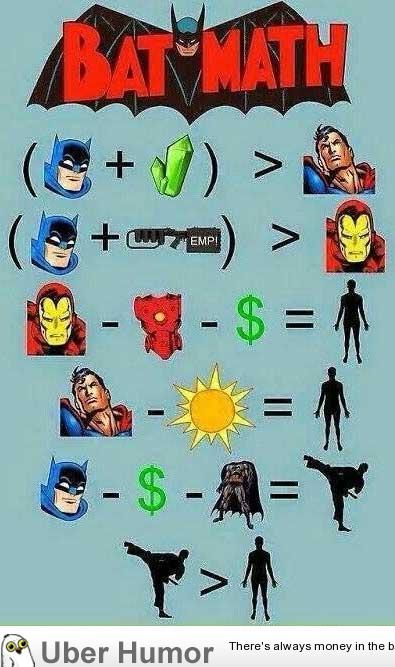 True. In DC cannon, only a handful of others are better fighters (Bronze Tiger, Lady Shiva, Richard Dragon, and a few enhanced fighters like Deathstroke).

That said, Superman has mastered a Kryptonian fighting style and has been trained by Batman himself, so he's not a poor fighter.

Iron Man has had some training from Captain America and Hawkeye, but is still primarily reliant on his armor.

Side: True.

You postulate that Batman is the better out of the two and yet the above equation is comparing human beings that are stripped of their abilities that would otherwise make the hero.

The math only proves that a human with a high degree of fighting ability is a better fighter than someone without(pretty redundant).

Side: Wait, what? No!!!

Bruce Wayne may be a better fighter than Clark Kent and Tony Stark, but in superhero form, Batman would be crushed. If you take away everything that makes them a superhero and just have them fight as normal people, then they aren't Batman, Superman, or Ironman anymore.

Side: Wait, what? No!!!