Do you think most people will make it to heaven or head straight to hell?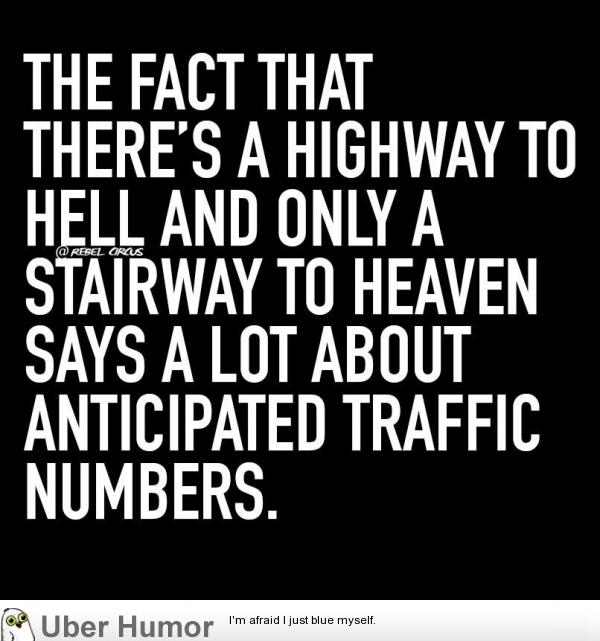 We make life heaven or hell right here "on earth" and unlike any other species we have the choice which way to play the game.

Unfortunately there are enough (e.g ISIS, Taliban etc) who make the wrong choice which directly or indirectly affects so many others.

There is no after life, we do our best and have only one go at it, when we're dead, we're dead and that's it we are only another species of animal anyway so just "do unto others" and get on with being considerate, thoughtful, kind and helpful and we'll be in heaven right here on earth.

Side: Heaven.

The rather dangerous assumption underlying your argument is that our behavior is a consequence of our own discretion. Not only is there no proof that free will exists, but there is a growing body of scientific research that proves that at least some of our behavior is determined by forces beyond our control (even when be believe them to be a consequence of free will). By attributing negative and positive consequences to choice, you dismiss the variables which actually produce those consequences. By casting those consequences as "heavenly" or "hellish" (or "right" and "wrong) you project your own subjective values onto reality, which further obfuscates objective reality.

I would suggest instead that there is no heaven or hell, in life or after it. There is only what is, and to define that reality in subjective notions of right and wrong is misguided. It prevents us from seeing what is as it actually is, supplanting that with our preference for what would be.

Side: Hell.

FromWithin(8241)

Disputed

Do you mean the fiction of Global warming alarmists? These biased so called scientists are the Flat Earthers of yesterday. I would trust what the Bible says a million times more than activist Global warming idiots with an agenda. Most of the Bible's predictions have come true where most of the Global warming idiots have been wrong on their predictions.

Where has the global warming been these past 20 years. Where are all the hurricanes that were going to start hitting the est coast from the warmer atlantic ocean. Oh that's right, it did not happen.

Side: Hell.

Most people will end up in Hell. According to this website there are about 2.18 Billion Christians in the world. That's not even half of the world population. With the decline of religion and the movement towards naturalism and self-sustained thinking religion will slowly fade, or at least Christianity will.

Side: Hell.

GenericName(3430)

Clarified

TheEccentric(3382)

Disputed

Well, if we just briefly consider some of what I was taught,( my indoctrination) as a child of four at Sunday School by Father Seamus O'Paedophile. You must love God, he loves you. But if you don't love him you'll burn in hell and suffer agonizing pain for eternity. Do you love god? You're dead right I love god, I love him, I love him. You must repent for your sins or you'll burn in hell for ever and ever. What sins were these Father? The sins mankind has been committing for 1000s of years. But please father I'm only four. Shut up boy. Are you going to repent or burn endlessly in hell? I repent, I repent. You must extol god every day in deed and in word or you'll roast eternally in hell and listen to the deafening agonized screams of all the other sinners. Are you going to extol the Lord every day ? I praise him, I praise, him. Different people have various names for this loving and caring religion, but I call it blackmail. Maybe we're actually in hell now. How do we know that the parents from alien planets don't say to their children, if you don't behave you'll go to Earth and have to listen to politicians telling lies for ever and ever? They of course would reply, I'll behave, I'll behave.

Side: Hell.

TheEccentric(3382)

Disputed

Wait a minute... if there is a highway to he'll, and a stairway to heaven, then if I'm heading to he'll, I'll take a U turn and go to the stairway to heaven. I'm smart. But first I have to make sure that there's not any bad drivers on that highway.... let's hope and pray to... wait.. I think it would be god...

Side: Hell.